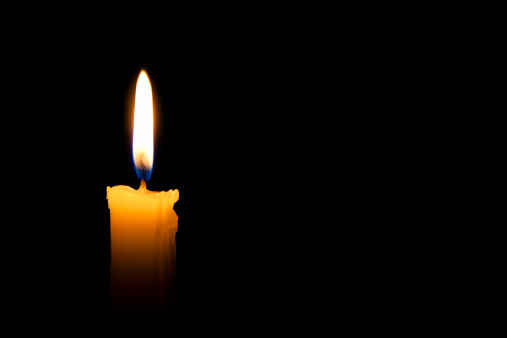 A few months ago I began lighting a candle as part of my morning ritual of coffee, reading, praying, and writing. The little light sits off to the side and after a while goes unnoticed…until recently.
We bought a house in the dead of winter. What emphasized that fact was more and more empty drawers and taped up boxes. When my candle dwindled down to uselessness I went for a replacement, and the only available were several Christmas gift candles. We had bought the kind which sound like a mini-crackling fire. Figuring this would add a bit more ambience, I gave one a go.
A couple of days in, I noticed slight slips of concentration, more than usual anyhow. This particular little light of mine had much to say. The conclusion: candles should be seen, not heard. I don't dismiss these crack candles out of hand. My muse did though. She thought it distracted our communique. "You're not listening hard enough," She'd say. "What's up with gibbering candle there?" She'd ask.
What would it be like if all candles crackled? Imagine a fine dining situation with the love of your life… The glow highlighting the subtle curves of facial recognition. Eye contact melting into soul connection. Soft conversation. After a few minutes the spit and sputter of the center lit ambiance highjacks the focus of togetherness. Instead of staring at each other, you're gazing at "it."
Or you walk into your catholic parish to light a votive or two, say a prayer, and sit quietly under the vaulted ceilings. But no, not today, because it sounds like a brush fire in the foothills. You can't even hear your own echoing steps on the marble floors.
I repeat, candles should be seen, not heard, when it comes to keeping silence and listening. Now, fires in the hearth are different. They are destined to speak, give off light, warmth, and an ambience for deeper refection. Campfires too. Bring a guitar, marshmallows, wieners, a circle of Adirondack chairs, and a recipe of reciprocity is complete.
But a silent light, holy light, serves sometimes as a reminder to close our lips. Let us find place to still our souls for a bit, open the flue of our hearts, and pray. Welcome the Muse if need be. Let the lit wick melt the waxy elements of a hurried worried life.
"I am the light of the world." Jesus
P.S. I do like the crackling candles, by the way. They serve a purpose, but fail in joining my quiet time in the morning.